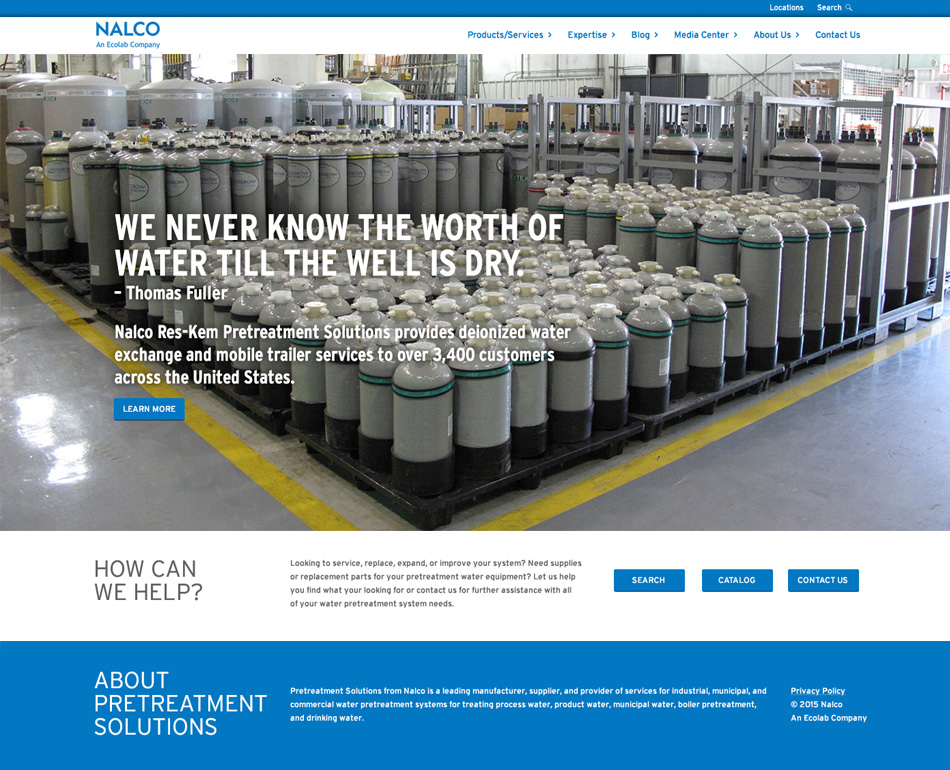 Atlas Marketing recently worked with Nalco Res-Kem to update their digital presence and create a better website user experience. The website refresh project included content consolidation, information reorganization and a new structure that incorporates responsive design.
The Issue
Nalco Res-Kem, an Ecolab Company, needed to consolidate information from multiple acquired companies into one Pretreatment Solutions website. Content from five websites (four company sites and one blog) was set to migrate to one Nalco branded website using the Nalco Res-Kem URL (www.ResKem.com). While three of the company sites maintained minimal traffic, ResKem.com had a more robust web presence, Google keyword rankings, and a vast amount of information and files. The goals for the new site included:
Consolidation of content, streamlining where appropriate and organizing information for a better user experience
Migration of the external blogger site to the main website
Website design update to include a responsive design and a CMS platform for easier site administration
Minimization of brand confusion
Reduction of traffic hiccups and Google rankings
The Strategy
Atlas Marketing designed a new website to mimic the look and feel of the current Nalco site. Additionally, we optimized over 400 PDF files and updated/organized content to ensure a better user experience. The new site speaks to the main needs of Nalco Pretreatment Solutions customers looking to service, replace, expand, or improve a water pretreatment system or researching supplies or replacement parts for pretreatment water equipment. The new site's main navigation highlights Products/Services, Expertise, a Blog (which we imported and formatted over 100 posts), and a Media Center with a video gallery.
The Result
The new site better aligns Nalco Res-Kem with the Nalco branding and provides a vast amount of images, content, and resources for visitors to thoroughly research products, services and solutions available through Nalco Res-Kem. According to our client, the new wireframe and content reorganization has contributed to an increase of better-qualified site inquiries. Additionally, the initial 90-day analytical reporting showed a minimal drop in keyword rankings and traffic has remained steady, following the same seasonal pattern as the preceding year.
About Nalco Res-Kem
Pretreatment Solutions from Nalco Res-Kem is a leading manufacturer and supplier of services, systems, and supplies for industrial and commercial water pretreatment systems for treating process water, product water, boiler pretreatment, and drinking water.