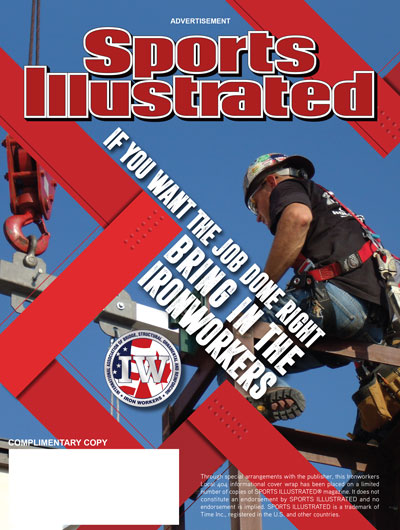 Owner Outreach Campaign
Ironworkers Local 404 and their contracting partners turned to Atlas to develop and execute a campaign for introducing Ironworkers to regional owners who do not currently have relationships with Union Ironworkers. The integrated campaign included a variety of outreach tools such as emails, postcards, press releases, and phone calls. The capstone piece of the campaign was a four-page cover wrap on the 2018 Sports Illustrated NFL Draft issue. This initial phase of the campaign produced 20 positive opportunities (to date).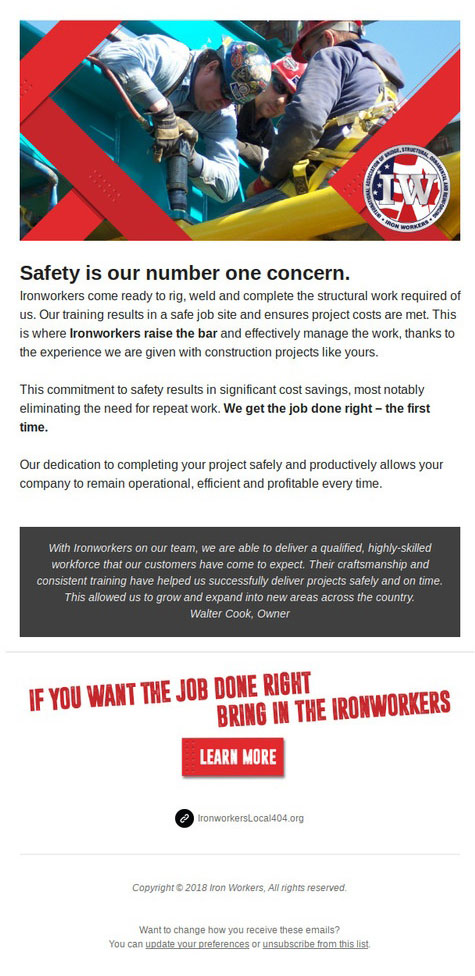 Building tradesmen tell their story in a first-of-its-kind campaign
The Issue
Ironworkers throughout a five-state region – Indiana, Ohio, West Virginia, Kentucky and western Pennsylvania – were intent on increasing their market share. This required outreach and relationship building from a group of professionals with no unified message or central point of information distribution. Additionally, various differences among locals became apparent including diverse wage rates, application processes and strong anti-union feelings in certain areas. To overcome these differences, Atlas Marketing devised a strategy targeting two very important audiences.
The Strategy
The implementation of a two-tiered strategic plan that included the development of two central points of communications, the first for potential apprentices – a website and a toll-free call center – and the second for direct outreach to the many local and regional contractors led to continuous outreach. Building on the strategic premise led us to develop the tagline of Ironworkers Do More. This served not only a slogan for the industry, but also led to opportunities to highlight the many business benefits of a relationship with the locals.
The Results
This first-of-its-kind marketing campaign helped to establish the Ironworkers as leaders within the building trades by improving communications among the various locals and establishing an industry-rallying cry. To reach potential apprentices through the combined marketing efforts of radio, television and public relations, Atlas Marketing generated over 120 million impressions. The call center received nearly 500 calls from potential ironworkers and established a database of future ironworkers. With 5,000+ visitors in the first six months, the website was a strong focal point for both contractors and those connecting via social networking sites. The most telling statistic is that approximately fifty percent of all visitors to the site were from outside of the five-state region. In fact, visitors came from each state and proved to be one of the unexpected successes of the campaign. As for contractors, the campaign generated 12 newly signed contractors. In two years prior to the campaign ironworkers lost over forty contractors. Additional contractors pledged to become a signatory and additional outreach continues to ensure an increase in market share.
Overall, the campaign provided a unified message, a central point of information and a regional call to action that has provided continuity to an industry that, until recently, was lacking in a communications outreach.
International Ironworker Apprenticeship Competition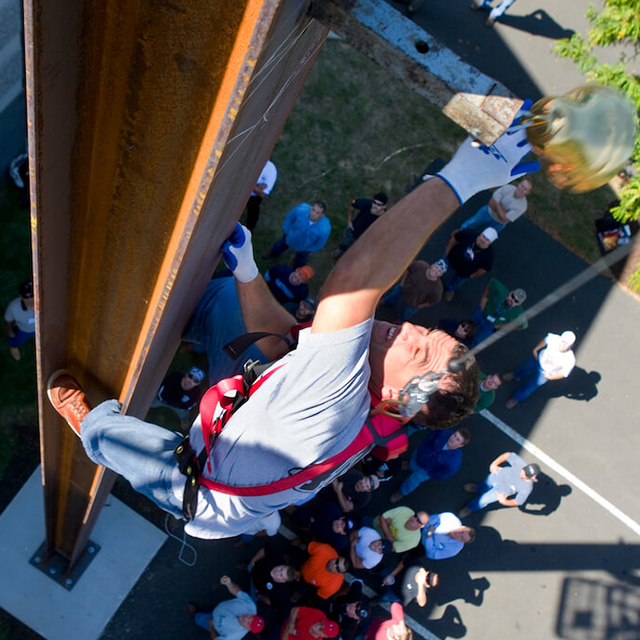 The Issue
Often referred to as the 'best kept secret of the Ironworking trade' by members of the proud union, the bi-annual International Ironworker Apprenticeship Competition brings hundreds of apprentices together to compete in various industry-specific skill sets including: welding, torch cutting, tying rebar, reading survey equipment, rigging (reeving and knots) steel for installation on a job site, ornamental window assembly and climbing a 35-foot steel column. To gain market share for the Union and raise awareness of the trade, Martin Public Relations was tasked with conducting a public relations campaign for the event.
The Strategy
To tell the apprentice story effectively meant sharing images – still and video – of Ironworkers in action with members of the media because words alone cannot explain what they do. This strategic approach included developing a website – IronApprentices.com – to serve as a repository for all things related to the competition. In addition to a media center, the site included videos highlighting various skills that would be on display during the competition, images from previous events and background information on the Union and Ironworking.
The Results
The 2008 International Ironworker Apprenticeship Competition gained media attention from coast to coast. Articles and television coverage regarding the competition generated over 1.3 million impressions with a publicity value that exceeded the event's budget by 30 percent. Additionally, the website received nearly 8,000 views from countries as far away as the United Kingdom, Norway, and Japan.
Sports Illustration Cover Wrap