Workforce Development Webinars for Construction Industry Highlight Power of Partnerships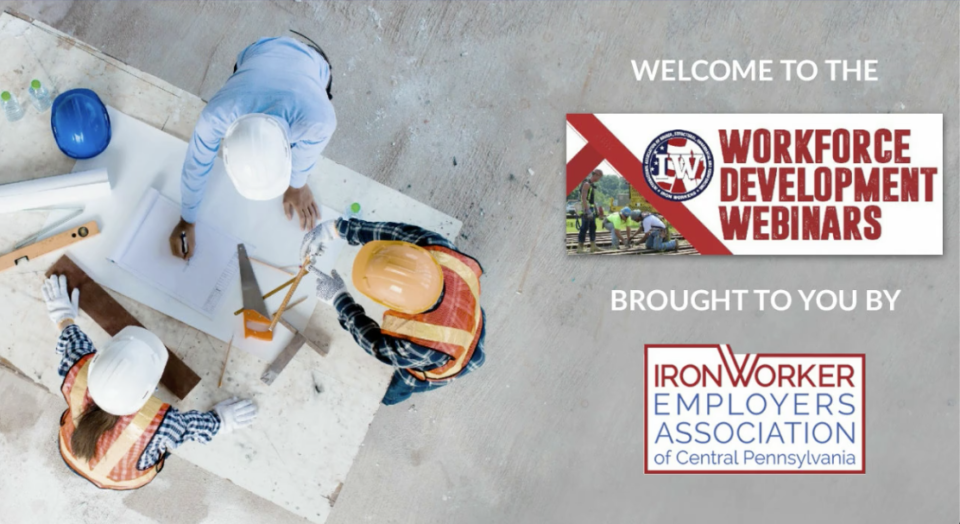 Series focuses on relationships, training, and technology  
Ironworkers Local 404 provides a look into the positive impact the building trades delivers to the construction industry through a new workforce development webinar series. The 3-part series will provide insight into partnerships on the job, the safety and training required for a zero-injury job site, and how attracting new talents through emerging technologies deliver opportunities to future generations. 
"A successful construction project requires owners, contractors, and the building trades working together to get the job done," explains Kerry Zettlemoyer, business manager, Ironworkers Local 404. "To deliver the skilled workforce necessary for tomorrow's construction projects, we must continue to invest in our business relationships, training, and technology."
The webinar series includes three topics – the Power of Partnerships, Four Ways to Combat Worker Shortage, and Three Ways Skills and Technology Converge in Construction. Registration is free and open to all industry counterparts, owners, and contractors. The following provides details for each of the three webinars. 
| | |
| --- | --- |
| Description: | Construction job sites require the right skills and the right manpower. Hear how one member of the building trades partners with signatory contractors to deliver a solid plan to owners to get the job done right – safely and productively. |
| Presenters: | Kerry Zettlemoyer, Business Manager, Ironworkers Local 404 Tad Hoffmaster, Enerfab, & Chairman for the International Workers Employers Association |
---
4 Ways to Combat Workforce Shortages 
| | |
| --- | --- |
| Description | It is a fact, operating a job site with highly-skilled craftsmen produces a safer, more productive project. How are these individuals trained for the field and beyond? How do technology and traditional college education play a part in this training? Hear from Michael Schurr and Local 404 Apprenticeship Coordinator share 4 ways the building trades combat workforce shortages to construct today's workforce. |
| Presenters: | Michael Schurr, PTM Consulting Dan Hoke Apprenticeship Coordinator for Ironworkers Local 404 |
---
3 Ways Skills and Technology Converge in Construction 
| | |
| --- | --- |
| Description | What resources are available to encourage an interest in the building trades? What trends exist to address specific construction skills – exclusive to an industry, a job site, or a particular task? Technology is available at our fingertips; see how it is utilized for training and recruitment in the construction industry. |
| Presenters: | Dave Daquelente, IWEA of Western PA Jessica Trybus, SimCoach Games |
---
About the Ironworkers  
Members of the International Association of Bridge, Structural, Ornamental, and Reinforcing Iron Workers are part of the construction trades. It is their job to unload, erect and connect steel beams that form the skeleton of a structure. Ironworkers work in precast concrete, metal buildings, reinforcing steel, ornamental iron, and metal curtain wall construction. First chartered in 1926, Harrisburg Local 404 encompasses 30 counties throughout central & eastern Pennsylvania and maintains a membership of over 650 Ironworker apprentices and journeymen. For more information, please visit IronworkersLocal404.org.