Construction marketing helps the industry build a promise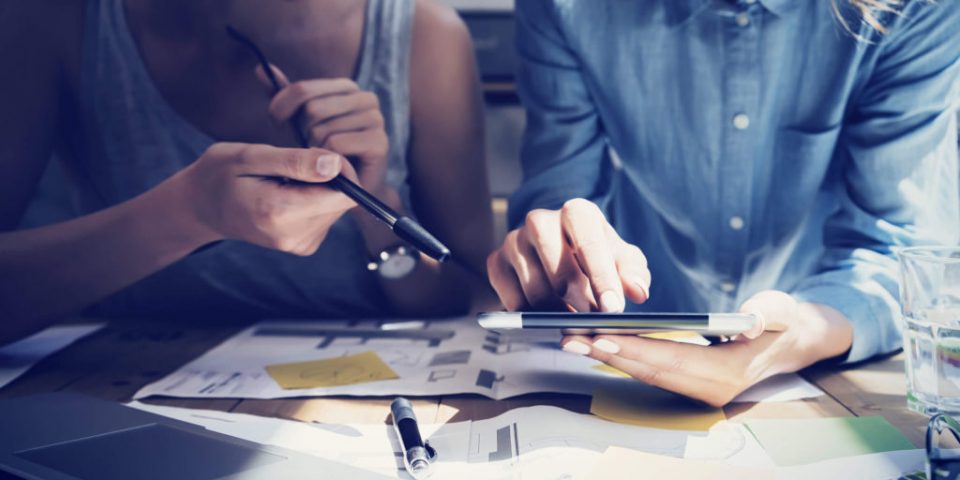 In an industry as competitive as construction, it's not good enough to be a master builder. You need to be a master at marketing, too.
Why safe, on time, and under budget is wrong for your business
Construction firms need to market themselves to their potential customers and build a link to their specific promise. The need goes beyond utilizing the current industry message – safe, on time, and under budget – because it has become overused and a customer expectation rather than a promise. Contractors need to tell their story, highlight why they stand out from their competition, and explain how they can maximize a project's value for their clients. Construction marketing in 2021 is built on this premise.
Construction marketing must go beyond safe, on time, and under budget to tell a story that contractors can proudly build a promise for customers.
By definition, construction marketing is the promotion, marketing and sales (or business development) efforts within the construction industry. This industry has grown up in the past decade and the definition of marketing has expanded drastically. Firms who approached construction marketing as the responsibility of the proposal creation and management department exited the industry when tablets arrived on job sites. Frankly, customers demand more than a well-designed proposal and most firms have yet to catch up.
At Atlas Marketing, we believe this approach centers on telling your story.
The goal of your story is to help customers decide to hire your firm. To achieve success, firms must embrace a variety of marketing components that help their firm stand apart, connect with customers and engage with them to make the relationship a true partnership.
Two vital elements of your story
Telling a story relies on two elements – brand and values. The act of combining these two elements into a connective, engaging story is the easy part. The hard part lies in developing your brand and establishing your company values.
Brands are more than a logo or a tagline. Brand is what people say about you (or your company) when you leave the room, according to Jeff Bezos. That definition is perfect for the construction industry. Can you trust that what your customers or employees say when you leave the room is positive? More importantly, will they know exactly what you want them to know about your business?
Brand is more than cool ads, flashy logos, and drone footage of projects. Brand is based on relationships and a distinct understanding of customer wants. For the construction industry, a solid brand helps customers understand how you can achieve results together.
This is where the value component comes into play. Defining your company values helps customers and employees bridge the gap between uncertainty and knowledge. Values for a construction firm have historically centered on safe, on time and under budget. While those values are tested, every contractor in the country is built on those same values. There is no difference within the industry. These values have become an expectation for customers, which in turn forces them to make a decision based on their own values – price.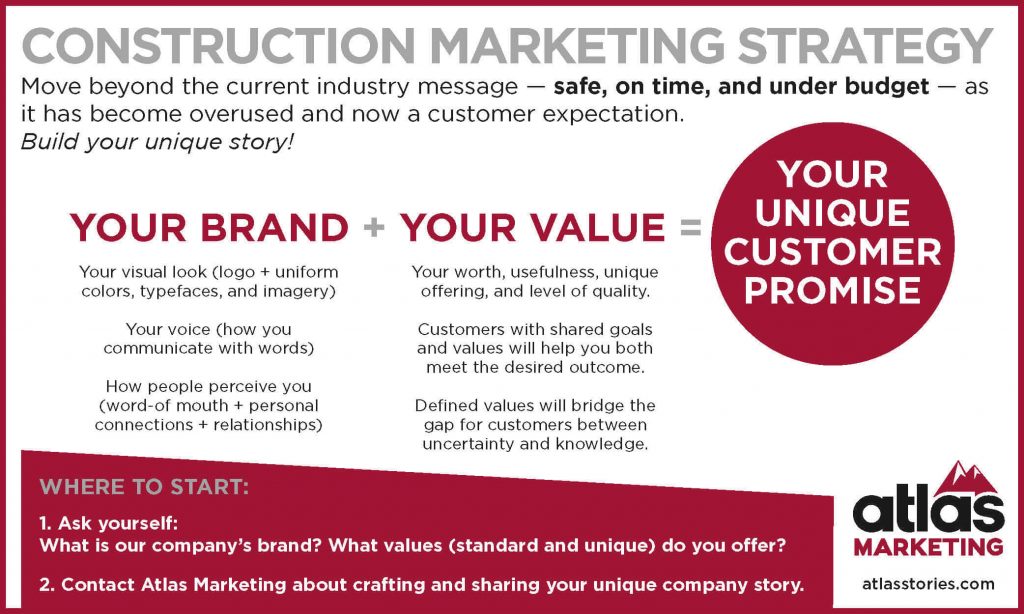 Construction marketing, through a storytelling approach, helps customers gain knowledge. That knowledge leads to a decision, which in turn leads to satisfied customers, successful projects, and an ongoing stream of additional work. In a competitive industry such as construction, tell a unique story to showcase your company's value to ensure that you become a master at marketing as well as a master builder.