Marketing tools for the construction industry

Just as any industry, construction relies on a variety of marketing tools to tell a story.
The most important tool in the arsenal is a marketing strategy that guides execution.
Marketing strategy for contractors should be built around your customer, and how your company's services and capabilities meet their needs. Commercial contractors who target corporations or agencies – retailers, hospitals, colleges, school districts, and governments – follow a distinctive plan compared to those who build or do work directly for consumers, such as home additions, renovations, and repairs. This is a vital differentiator because there are distinct differences between the commercial and residential markets. Make sure the person/agency creating your strategy are knowledgeable of the difference between commercial and residential markets.
Your marketing strategy houses the various methods of reaching your customers. We've compiled a list of the top marketing tools to tell your construction business story based on your strategy.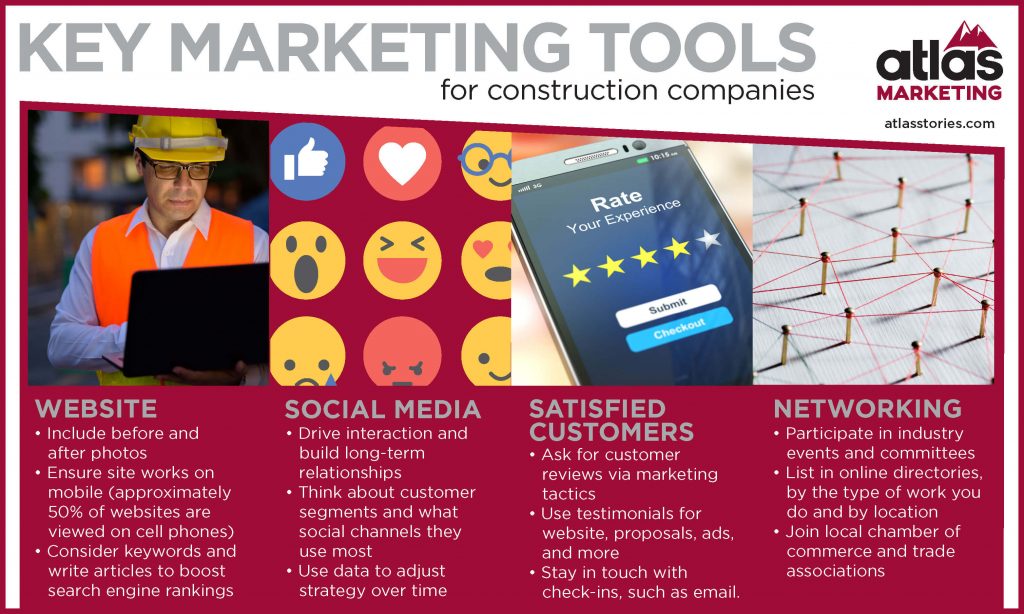 A robust website is your top marketing tool
Construction is a visual industry. Use photos, graphics, and videos on your website to show the before, during, and after stages of projects to illustrate your company's skills. When creating a website, take special care to explore how it will look when someone looks at it on their phone. It should be easy to navigate and interact with by mobile users.
Increase traffic to your site with Search Engine Optimization techniques to rank higher in Google searches. You also can increase traffic by writing articles for your website that answer commonly asked questions relevant to your customer base, such as "How to build a state-of-the-art school" or "How do I finish my basement?"
Social media drives interaction.
Different social channels are used to reach different market segments. While homeowners can be reached on platforms such as Facebook and Instagram, businesses are best reached on professional platforms such as LinkedIn. Not only is it important to understand which platforms work best for your audience but also provides data and measurement tools to generate success.

The Atlas Marketing team utilizes a structured measurement process that reinforces the story. Boosting the story requires a hyper-focus on data and understanding which stories resonate with your audience, engage with your followers, and drive conversations.
Put your customers voice to work for you
Your most valuable tool is your satisfied customers. Find ways to incorporate them into your marketing. Include customer testimonials on your website. Use their complimentary quotes about you on social media and in advertisements.
Use those satisfied customers to generate leads for future business. If you've done work for a hospital, school district, university or retail chain, keep in touch with them. They will have future needs, and you want them to remember what a fine job you did on your previous project for them.
Don't forget traditional networking
This may go without saying, but it's important that your customers be able to find you, and not just online. Participate in industry trade shows, committees, and job fairs. Make sure you are listed in online directories, by the type of work you do and by location. By joining your local chamber of commerce and trade associations you will increase your exposure, too. Participate in the groups to establish your leadership skills and expertise. The more other leaders see you actively engaging the more referrals you will receive.
There are many additional marketing tools for the construction marketing professional. Look for additional articles related to the top marketing tools through the Atlas Marketing blog.