Integrated Campaign Builds a Workforce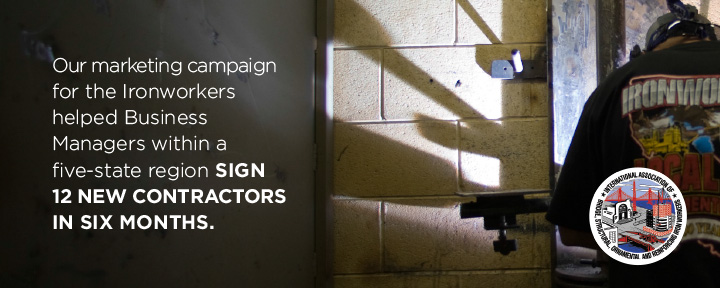 The Issue
Ironworkers throughout a five-state region – Indiana, Ohio, West Virginia, Kentucky, and western Pennsylvania – were intent on increasing their market share. This required outreach and relationship building from a group of professionals with no unified message or central point of information distribution. Additionally, various differences among locals became apparent including diverse wage rates, application processes, and strong anti-union feelings in certain areas. To overcome these differences, Atlas Marketing devised a strategy targeting two very important audiences.
The Strategy
The implementation of a two-tiered strategic plan that included the development of two central points of communications, the first for potential apprentices – a website and a toll-free call center – and the second for direct outreach to the many local and regional contractors led to continuous outreach. Building on the strategic premise led us to develop the tagline of Ironworkers Do More. This served not only a slogan for the industry, but also led to opportunities to highlight the many business benefits of a relationship with the locals.
The Results
This first-of-its-kind marketing campaign helped to establish the Ironworkers as leaders within the building trades by improving communications among the various locals and establishing an industry-rallying cry. To reach potential apprentices through the combined marketing efforts of radio, television, and public relations, Atlas Marketing generated over 120 million impressions. The call center received nearly 500 calls from potential ironworkers and established a database of future ironworkers. With 5,000+ visitors in the first six months, the website was a strong focal point for both contractors and those connecting via social networking sites. The most telling statistic is that approximately fifty percent of all visitors to the site were from outside of the five-state region. In fact, visitors came from each state in the country and proved to be one of the unexpected successes of the campaign. As for contractors, the campaign generated 12 newly signed contractors. In two years prior to the campaign ironworkers lost over forty contractors. Additional contractors pledged to become a signatory and additional outreach continues to ensure an increase in market share.
Overall, the campaign provided a unified message, a central point of information, and a regional call to action that has provided continuity to an industry that, until recently, was lacking in communications outreach.