Three Rivers Leadership Invites Chris Martin to Share His Leadership Story
Three Rivers Leadership podcast invited Atlas Marketing president Chris Martin on the show to discuss his approach to growing the agency as well as his personal leadership style.
The show is hosted by Vistage Chair, Kevin Trout and airs on WORD-FM. The show is where Pittsburgh's high-performing CEOs and business owners share their leadership stories.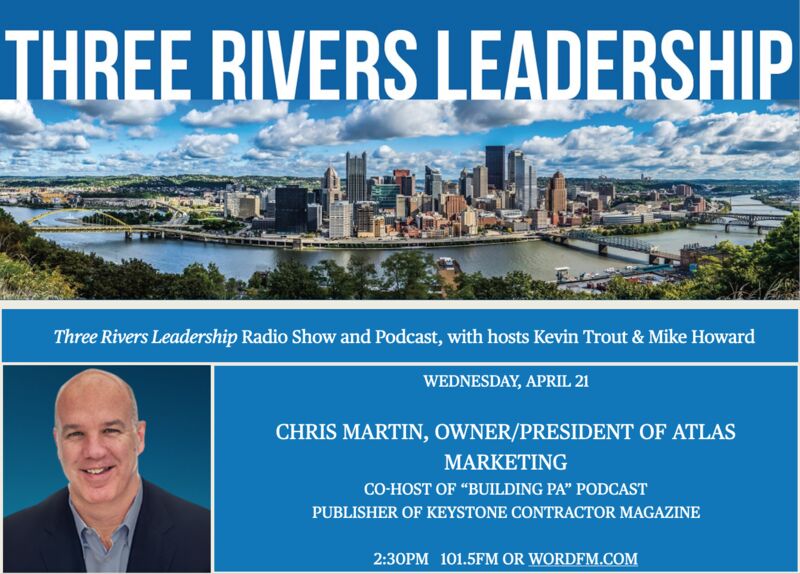 Episode Details
In this episode, Martin responds to various questions related to the growth
of Atlas Marketing including:
Where are you from originally, where did you grow up, where did you go to school?
How did you get into the business you are in now, and what exactly does your company do?
What is the biggest change in marketing since you began Atlas Marketing?
How would you describe your leadership style?
What would people be surprised to learn about you?
As a Vistage member, what has your Vistage experience meant to you so far?
What is the most important lesson you have learned that you would share with others?
During the podcast episode, Martin shares his passion for telling stories. "Helping clients understand how to tell their story is such fun and drives me daily. Finding the uniqueness of each client is the goal of each campaign and our team works extremely hard at various strategies." Listen to the growth path Martin is taking in guiding Atlas Marketing and how Vistage has impacted his management and business strategies.
Martin is a member of the Vistage community and is actively growing Atlas Marketing. "Vistage has provided me a peer group of like-minded CEOs. Their input, feedback, and support have become invaluable as the growth of the agency continues," Martin said. "I have come to rely on this group for their expertise, but also their friendship.
For more information on Vistage or the Three Rivers Leadership podcast, connect with Kevin Trout.